HOME




SOAPBOX




ARTICLES




FEATURES




LINKS



LOCAL
FAVORITES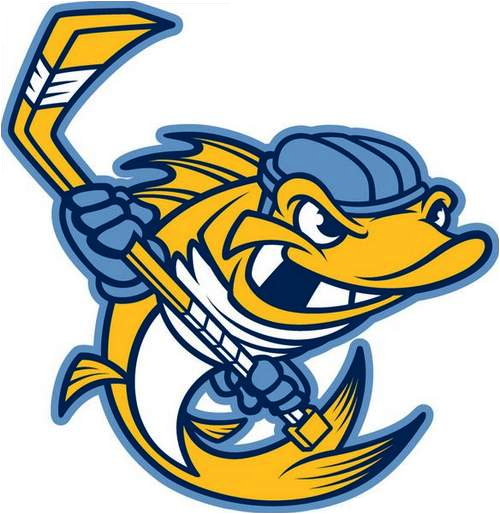 THIS OLD WORLD
Latest News, Comments, Research, and Observations






URBANISM IN TOLEDO

This past Sunday, April 26th, 2015, the Toledo Blade published a long feature story about the city of Toledo's failure at maintaining and redeveloping the downtown area's businesses, neighborhoods, and architecture.

The context certainly appears to be that they are opposed to the plans by TARTA and the City to re-imagine the TARTA bus loop by taking much of the Jackson Boulevard right of way (ROW) to create a new passenger pick-up and drop-off facility. Jackson would revert to a standard downtown street configuration.

For more, click HERE.


RECONFIGURING THE AWT ENTRY INTO DOWNTOWN TOLEDO

"Make no small plans; they have no magic to stir men's blood... Make big plans; aim high in hope." Daniel Burnham



The City of Toledo has a new proposal for the entry from the Anthony Wayne Trail (AWT) and northbound I-75 into the warehouse district into downtown. The new proposal makes changes to an earlier plan from May of 2014. What follows here is my assessment of the existing conditions, the City's new proposal, my suggestions for improvements to the new proposal, and an additional design proposal that I believe is better for the AWT entry. For more, click HERE.


Architectural Styles Over the Last 200 Years




Here is a graphic I developed afew years ago for a project detailing the architectural styles and associated periods those styles fall in. I have additional graphics that demonstrate Toledo buildings that fall into many of these periods and styles. I'll try to dig that presentation out.


New Series of Old Photos...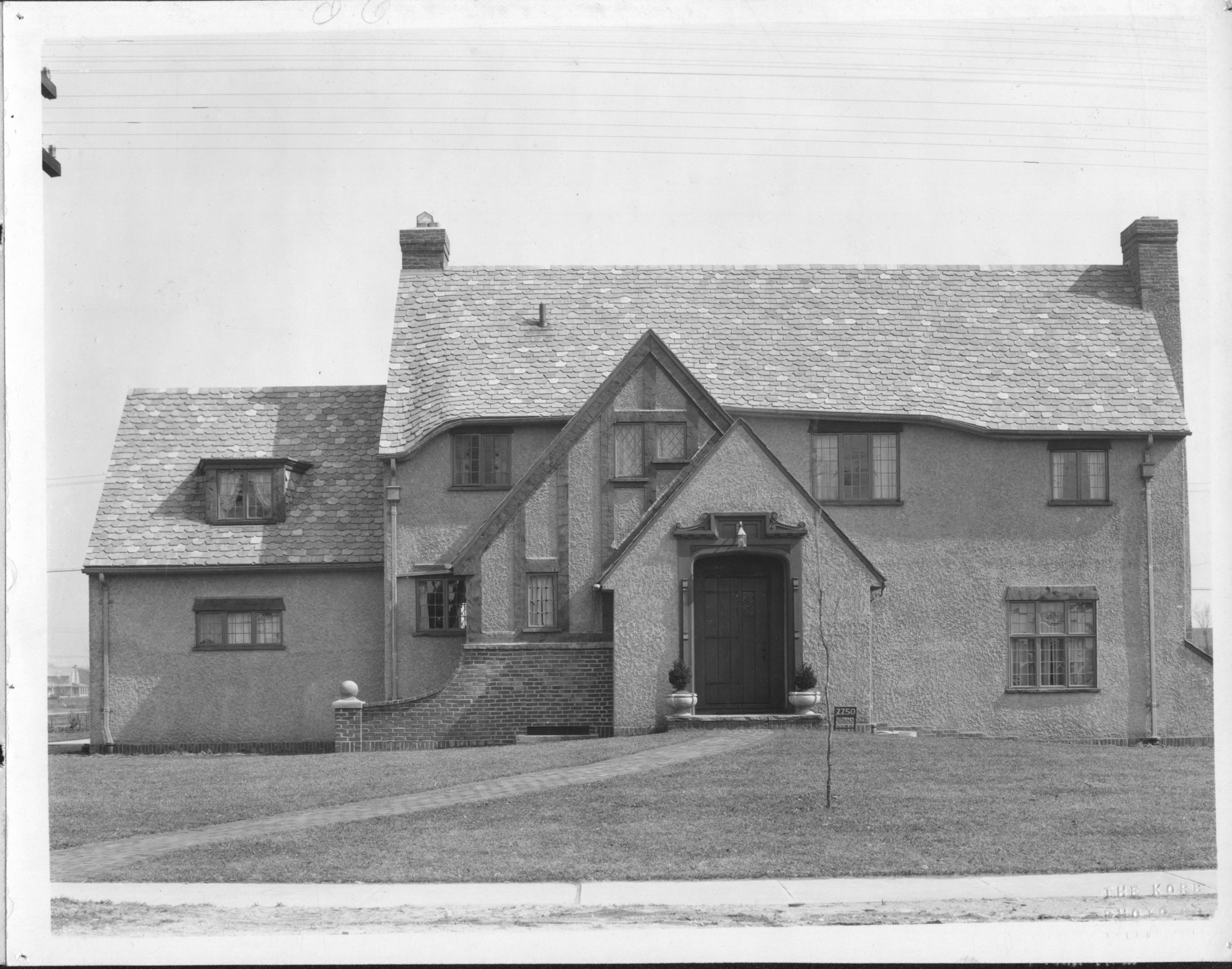 ... from the development period of Old Orchard by Wells Bowen... approximately 1929. These are fairly dense bmp scans. I will add a new one every once in a while, and move previous ones onto their own page as a group to the features section.


Possible Marina District Short-Term Use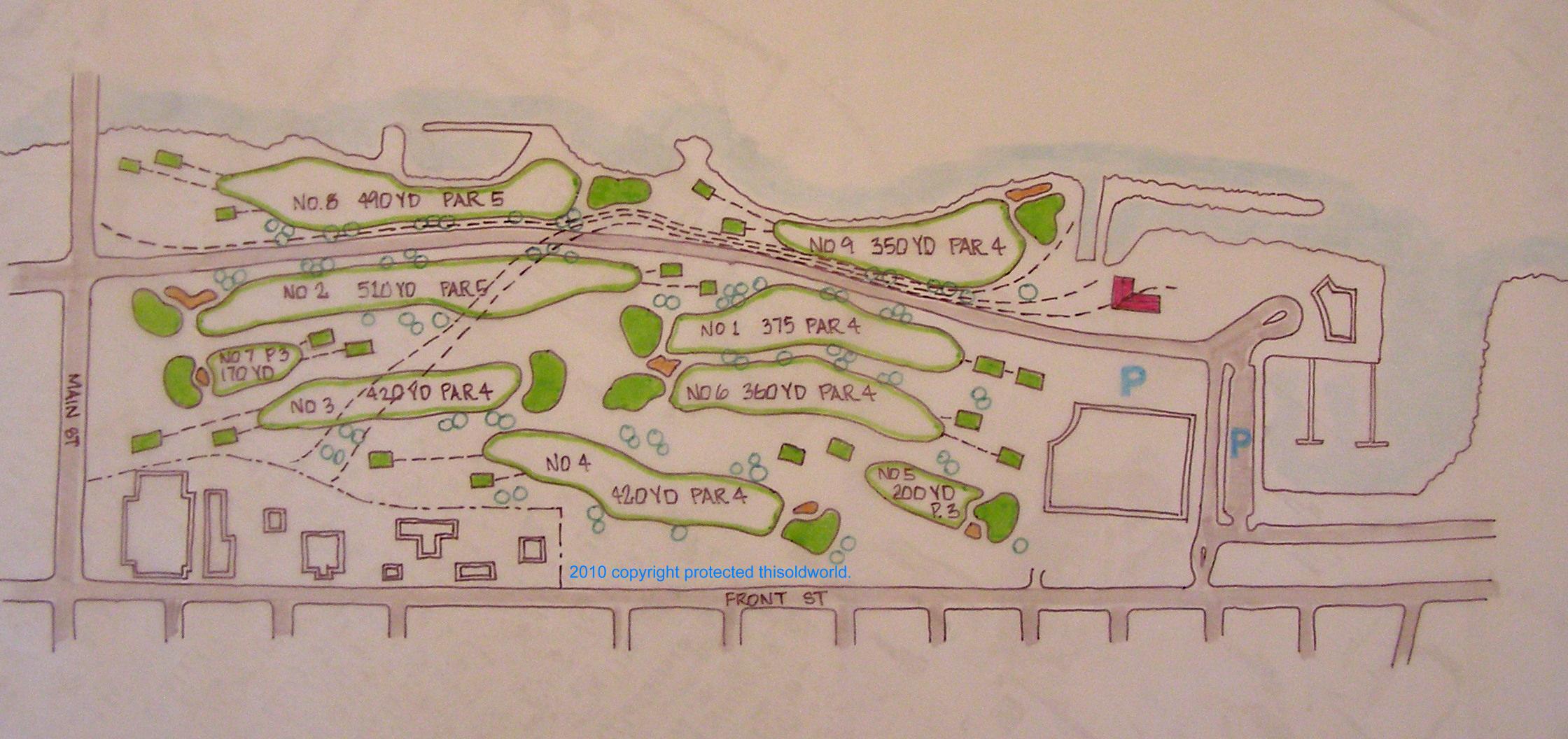 Click for a larger version of the Marina Golf Course graphic.

Whatever use the Marina District may eventually have, something must be done with it in the short-term in order alleviate the blight that exists there. The existing conditions diminish the quality of life for all Toledoans but especially for those that live on the East Side and those that work and play at International Park. Further, existing conditions create an eyesore that could hinder the willingness of potential investors to participate in developing the site, a perception of the area that could be difficult to reverse. If the City of Toledo does not have enough pride to do right by the Marina District, why should an outsider trust us with tens of millions of dollars to develop it.

Obviously, the drawing above is one potential short-term use: a 9 hole golf course. This would serve to both beautify the site and serve as an amenity for businesses downtown. Urban golf courses as part of continuous "necklace parks" have a rich history of success and have been employed by generations of great urban planners. This would also strengthen the actual marina by having additional activities accessible by boat as well as bridge the perceived gap between downtown and the Marina.

The use as a golf course, however, should be viewed as a short-term solution. The importance of this site in linking the adjacent East Side neighborhoods to the river and, indeed, the downtown makes the Marina District an important location for Toledo's future mixed-use urban center acting as both a draw from suburban neighborhoods and outside of Toledo and, importantly, a catalyst for the neighborhoods of the east side to improve their quality of life.


TARTA Control

TARTA's decision to reduce service in the face of rising fuel costs is short-sighted. Cutting hours of operation, the number of routes, and the frequency of runs while simultaneously increasing fares to attempt to generate more cash completely nullifies the opportunity TARTA is being presented by world events and the economy. This is an opportunity to increase market share; this is a chance to greatly reduce overall fuel consumption in our region; this could allow a greater number of people full access to jobs and markets throughout the metropolitan area; and this would allow us to improve environmental conditions here and for the world.

Our current dilema is a result of the confluence over the last 60 years of the rise of the suburbs, the growing reliance on the automobile over mass transportation, and the relatively low-cost and stable production of fossil fuels made possible by huge subsidies and a refusal to address secondary negative impacts. However, recent years have brought the "race to the bottom" economics of WalMart types corporations and the complicity of the Federal Government in trade policy and standards that, combined with changing Middle East geo-politics and the nationalizing of the oil industry, have changed that equation.

The relatively booming economy and high disposable income of the 1970s - 2000 easily allowed inflationary increased fuel costs to be absorbed. This is not so in today's economy. This presents TARTA with the opportunity to re-establish mass transportation, increase market share, and actually help people in their daily lives - people who can no longer reasonably afford an automobile (or 2 or 3) and all of the related expenses.

TARTA must recognize that they are at a nexus... a tipping point... a paradigm shift... insert your own favorite metaphor here... and should make every effort to expand hours of operation, frequency of runs, increase the number of routes, and revert the transfer fee back down to a nominal amount.


What Real Urbanism Looks Like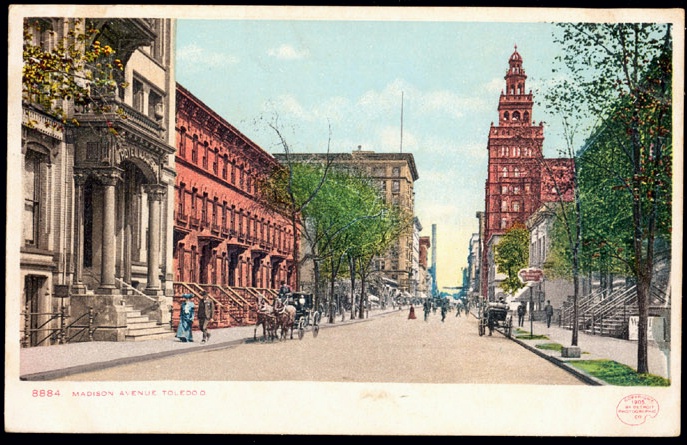 Because of the non-sense that happens with policy, development, and urban design here in our fair city, it can be easy to forget the benefits of what good urbanism can impart. So, here to remind us of what Toledo can be, the promise it holds, the future if we dare to demand a great city, is a picture of what Toledo did look like in its prime.

Notice the mixed-uses of residential, commercial, and office. This is Madison at 10th so we know there are churches and government uses around the corner. Also of importance to note are the owner-occupied residential units that enter from the sidewalks are the dominant type of residential - not condos, or apartments, or "townhouses" that enter off a center courtyard.

People were able to walk to almost anyplace or any amenity they needed. And for longer trips or to access rare commodities, trolley lines were located within a few blocks of virtually the entire City.


The Proposed Swan Creek Riverwalk

I must say that, overall, I really liked the project. Because the project was limited in scope and the number of property owners was relatively small, it appeared to be feasible to do.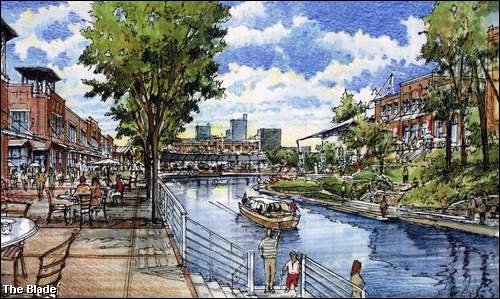 The following were my comments at the time it was proposed:

First and foremost, this riverwalk should be viewed primarily as a project for current or future residents of the the neighborhoods that are adjacent to the project area. The project area runs from Collingwood Blvd to the confluence of Swan Creek and the mighty but muddy Maumee River, just about 1.5 miles as the river flows.

The idea that this will be an out-of-town destination is nice but, if that happens, it will merely be icing on the cake. This must primarily serve our urban neighborhoods as an amenity and convenience. Local citizens will use the path for getting where they need to go and for excercise and as a place to shop for daily goods. It will be vitally important to the long term health of the riverwalk to support existing and in-fill housing and mixed-use development in the adjoining neighborhoods, especially the Warehouse District.

My concerns are these -

- What part of the design of the San Antonio Riverwalk was Tetra Tech actually responsible for (as the old saying goes, success as in San Antonio, has many fathers while failure is an orphan)? Water engineering is their specialty; was that their only role in San Antonio? Did they do master planning? Urban planning? Architecture? Do they have experience as overall developer of this type of project?

- The City is offering existing public parks as part of the land sale to Tetra Tech (Boechenstein Park). A public park is different than land that the City merely owns. Is this an overall good policy for the City to engage in? This was done at International Park with overall good results but also with a loss of public use of the park, especially east-siders who had an expectation that it would be an Ottawa Park type facility.

- It is the intention of Tetra Tech as part of their plan to either deed back to the City (or some other entity) the property adjoining the creek OR grant an easement through all of these properties along the creek so that the new riverwalk would be open to the public?

- Over the 1.5 mile length of Swann Creek from Monroe Street to Collingwood, there are 6 bridges and 2 roads that dead-end into the creek. The remaining access to the creek is through private property. What will be the strategy to assure there is plentiful access along the length of the riverwalk?

- There are several properties being offered by the City that are not adjacent or in very close proximity to the riverwalk. These properties are also very valuable assets - specifically the parking lot at Central Union Terminal and the old Federal Building site at Promenade Park. Are these strictly assets to make the project viable for Tetra Tech or is there some associated use to tie these locations into the riverwalk project?

Is there a formal relationship between St. Clair Rubber and the City that St. Clair Rubber properties were included on the "Exhibit B" list? What is that relationship?

Why are several properties listed in both "Exhibit A" and "Exhibit B" lists?

What is the status of the land bounded by Collingwood, the Anthony Wayne Trail, and Swan Creek - the Auditor's website does not list an owner?

There are relatively few owners that Tetra Tech would have to deal with and whether these other entities are brought into the deal or bought out, it appears this project could work in every respect; for the City, for the residents, for the development community.

There are, of course, lots of property deals to be negotiated, political horse-trading to be haggelled over, financing hoops to jump through, and design issues to sweat. The project has been proposed and studied dozens of times over the last 100 years but this is the most momentum and perhaps the best chance to succeed a Swan Creek Riverwalk has ever had.


Strickland wants to re-evaluate Ohio rail system

Very good news in an AP story from The Blade today. The governor has asked Amtrack to study the viability of bringing back a more extensive passenger rail service network in Ohio.

Not only would rail service help combat higher energy costs and decrease polluting emissions from delivery trucks and passenger vehicles, improved rail lines will contribute to the revitalization of our cities and increase the mobility of the elderly, the poor, and others such as student - how many Toledo kids go to school in or near Dayton, Cincinnati, or Columbus?!

The Governor has shown himself to be a progressive leader. Intermodal transportation links have always been a vital geographic advantage in Ohio and the failure of past administrations to protect that interest is in part why Ohio's economy lags.

This possible new intiative along with alternative energy production research, growth of "new economy" jobs, and strong continueing education programs that help retain important manufacturing jobs will go a long way toward bringing back our State's economic strength.


WI-FI for Toledo

The Toledo Blade noted yesterday that the company that had been approached about the contract to install wireless internet service city-wide in Toledo has reneged on their deal with several other cities. These other cities had been told by California based MetroFi that they would get their systems installed for free with, I assume, incomes streams being generated by advertising as part of the frame of the internet screen.

This business model has not proved to be a reliable path to success in the past so it is not surprising that MetriFi is now attempting to get these municipalities to make significant payments to complete systems that are already underway. There are no freebies and the internet is still a nebulous entity - each new technology that is associated with it must figure a plausible economic value.

The point really is this: installing free WI-FI was a very good idea. The problem is setting an unrealistic goal of doing too much for too little. As Tom Walton, former editor at the Blade, pointed out in an editorial the other day regarding other issues, even when the Mayor is right, he gets it wrong, snatching failure from the jaws of success.

The City of Toledo would have been smart to have paid a fair price to have WI-FI installed in several neighborhoods in the near downtown as part of a strategy to support entrepreneurs in business incubator areas around the Central Business District. Wire the Warehouse District, Uptown, and Main Street on the east side. This would assist start-up businesses such as attorneys, artists, IT companies, light manufacturers, and residents in these regenerating neighborhoods.

Installing WI-FI in these defined areas would have been a manageable and affordable project that would have shown the City was serious about developing the neighborhoods around downtown as mixed-use. As part of a larger strategy that directed CIP spending on other infrastructure improvements in these areas and the other financial incentives already available, the City of Toledo could make progress toward the much sought reputation as a "creative-class" friendly environment, set the table for technology jobs, and start to make serious progress on job creation.


Debate about the structure of the Toledo City Council

The current discussion about reconfiguring Toledo City Council and reducing the salary of the Mayor is politically motivated retribution, theater, and maneuvering.

"Retribution" in that the Mayor, in a tit for tat exchange with several Councilmen, forwarded this proposal in order to put these Members in jeopardy. Joe McNamara, particularly, and other Council Members are the flies that have been buzzing around Carty's head. This new proposal for Council realignment is the newspaper intended to swat them away.

It has been "theater" in that the savings proposed from both the Mayor's reduction in salary and the reduction in the number of Members of Council is a trifling in relation to the total budget and the associated shortages – this melodrama is a gaudy gesture to the voters declaring "I am fiscally responsible.".

Finally, it is "maneuvering" in that the Mayor wants to make "his" office less attractive to potential rivals by cutting the salary. Most people who would seriously run for Mayor and, frankly, be seriously qualified for the office, have higher income potential than what being Mayor pays. By reducing the salary, potential candidates with mortgages and perhaps children in college might think twice about running.

The voters should not fall for this ploy. We need a very highly qualified Chief Executive for the City of Toledo and should be prepared to pay a decent and fair price for that person. But perhaps the citizens should rethink the composition of Toledo City Council.

Here is my proposal:

Make Council a nine (9) member body each elected by district. With nine members, an odd number, City Council is less likely to have a tie. The Mayor, the head of the administrative branch of City government, would NOT be given the tie-breaking vote in City Council, the legislative branch of City government. The Mayor has this vote under the current system. This unnecessarily bogs down the legislative process and the Mayor should not have both a vote and a veto.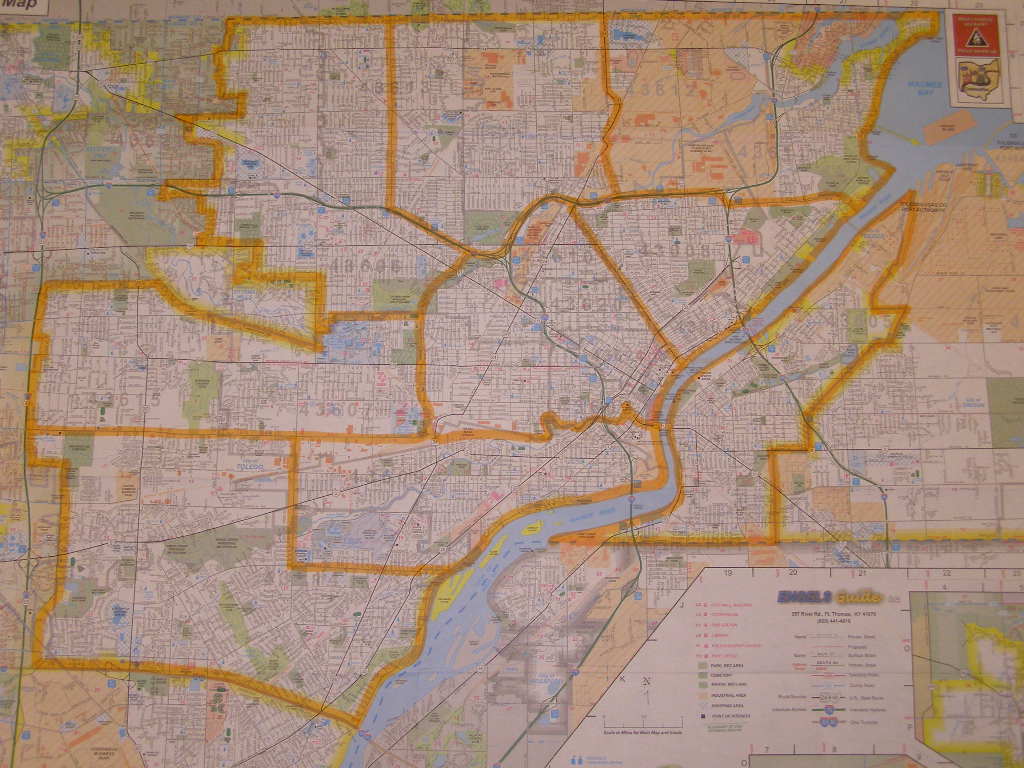 Council should be elected by district because, under the current system of mixed district and at-large Council Members, people in wealthy neighborhoods tend to be over represented and poor neighborhoods tend to be under-represented. The at-large Members, tend to disproportionally represent wealthy, non-minority communities. Wealthy suburbanites have greater personal wealth to fund their campaigns and tend to have similar friends, business connections, and neighbors who contribute as well.
Given that campaigns are as much about connections as they are about ideas, candidates from disadvantaged neighborhoods tend not to be able to compete City-wide in this type of system. This tends to skew Toledo City Council away from the democratic principle of "one person one vote."
Another result of the current system has been very different job descriptions for the two types of Members of City Council. The "District" Members spend a significant amount of time performing constituent service that "At-Large" Members are generally spared. By making everyone "District" Members, that constituent workload gets dispersed among more people – this provides better service for the community and gives all Members of Council equal responsibilities.
Council should, however, be recognized for what it is, a part-time job. Council Members have one full Council meeting a week (alternating between the regular Toledo City Council meeting and, on alternate weeks, the "Agenda Review" meeting were most of the serious work is done outside of public view). On most weeks, Council Members only have 1 or 2 other Council subcommittee meetings per week. Add in several hours of research and taking care of constituents concerns and on the average week, Toledo City Council Members should only need 18 – 24 per week. The actual work-load for Council Members is not heavy enough to justify full-time status.
On top of this, each Member of Toledo City Council has a part-time employee working directly for them, doing research, providing constituent service, writing reports. The usefulness of these positions should be studied by the Clerk's office to determine their effectiveness and continued need.
Further, we should not be paying City Council Members for the time they spend running for office. Many press conferences, public appearances, and much research time are actually Council Members campaigning.
The $27,500 that Toledo City Council Members get is too little to pay for a full-time job and too much to pay for a part-time job. Further, reducing the pay for City Council Members and the number of hours they are expected to work will make it more likely that Council persons are neighborhood activists and advocates rather than people posturing for their next higher elected office. I would set the half-time pay at $18 – 20,000.
On the other hand, the professional staff at the Clerk of Council's office should be fully staffed. These are the people who do the heavy lifting - independent research, conferring with the administration, constituent service work, compliance, and writing – that makes for sound legislative policy and smooth running City operations. This office has run 2 or 3 person short for several years and at times it can not help but show the effects of that.
The City of Toledo has too many politicians right now and not enough trained staff and neighborhood advocates. For perhaps the wrong reasons, the Mayor may be right that it is time to change City Council around.



Sunshine come on back another day,
I promise you I'll be singin'
This old world she's gonna turn around
brand new bells'll be ringin'

from "Sunshine" by Jonathan Edwards


Questions, Comments, Observations: admin@thisoldworld.com


favorite albums 2001-2010

1. Yankee Hotel Foxtrot – Wilco
2. Fleet Foxes – Fleet Foxes
3. Crane Wife – Decemberists
4. Love and Theft – Dob Dylan
5. Oh! Inverted World – the Shins
6. Arctic Monkeys – Whatever People Say I am…
7. You In Reverse – Built to Spill
8. Finn Brothers – Everyone is Here
9. Elephant – the White Stripes
10. One by One – Foo Fighters