The Warehouse District


Why has the Warehouse District Not Been More Successful

The development of bad residential projects is among the chief reasons.

While several residential projects have gone in, they have not necessarily been the proper type for an urban neighborhood such as the Warehouse District. The apartments in the old Lion Store Warehouse at the corner of Huron and Lafayette are only half of a good idea. The residential condos in that building work pretty well. However, they tore down two buildings to accomodate carports and an outdoor swimming pool for the condo residents - carports and outdoor swimming pools are among the least compatible construction types imaginable in an urban neighborhood. It makes the whole project look as if it should be located out at Brandywine.

The two buildings demolished were important to the neighborhood in creating the density needed in a successful urban neighborhood. They were opportunities for additional development, businesses, and residents; the very elements that create a vibrant streetscape and help create a safer more interesting neighborhood. As an aside, it should not be overlooked that the two buildings they tore down were where Haughton Elevator Company was founded. Haughton is yet another prominent industrial age Toledo Company who's history is almost completely lost on its current residents.

Another project that has been a problem and has slowed the redevelopment for the Warehouse District are the "townhouses" located at Swann Creek between Summit and St. Clair Streets. These condos are "townhouses" only in name because they share none of the characteristics that actually define a townhouse. The primary problem is the fact that none of the units actually have entrances on the streets that surround them. There is no acknowledgement of the neighborhood context. Instead each unit opens onto a center courtyard of garage doors and surface parking. It is as inhospitable and unwelcoming to the outside community as it could be. For residents of the development, the space is strictly utilitarian and uncomfortable; garbage cans and asphalt. It creates no sense of community and has no warmth.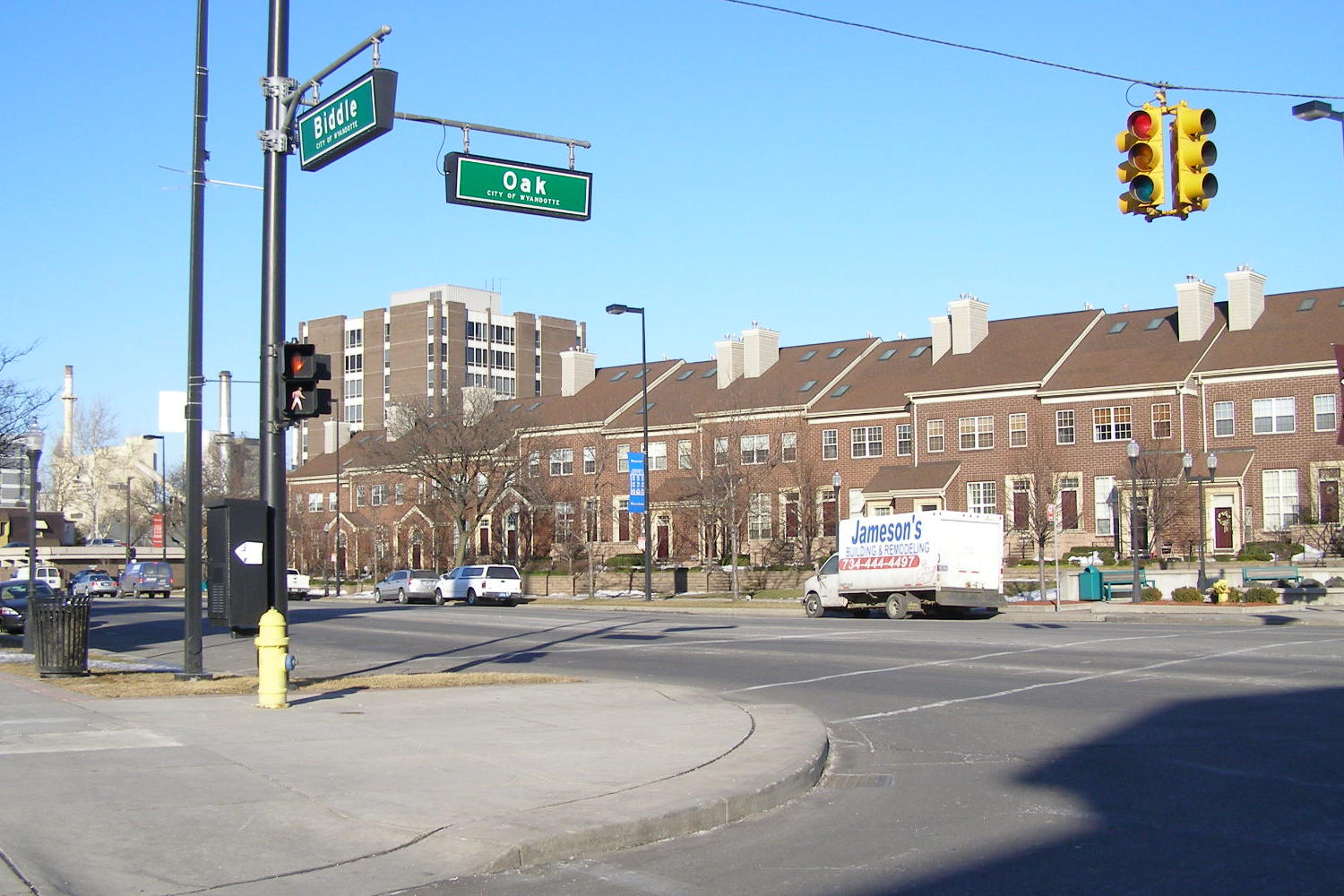 This is the type of "townhouse" that should have been put in at Summit and St. Clair Streets at Swann Creek. Front doors for each residence opening on the public street and a scale and design that is comfortable make these townhouses much better suited for an urban neighborhood. These were recently completed in Wyandot, Michigan.
---
A final example of misguided residential development in the Warehouse District was actually perpetrated by the Toledo Warehouse District Association itself. They took a series of beautiful Victorian age buildings and mangled them. These buildings, the very buildings that gave the Warehouse District its historic identity with their ornate cornices and iron columns, were intended to be a series of independent buildings. This building type, with specific dimensions, proportions, and window and door characteristics that developed over millennium of urban design, are well suited to human habitation needs and reflect construction methods of masonry and wood.
The Warehouse District Association, in redeveloping these several buildings, chose to combine the second floor area of all of these buildings, the residential portion, and give them a single common corridor running parallel with the street. This is completely out of charater with how these buildings were designed. The number of entrances for the entire residential portion of this newly joined project were reduced to two and the new configuration required breaking out huge chunks of the historic masonry walls between buildings as apartments sprawled between them and were shoe-horned into odd shaped units.
These buildings would have originally been owner occupied work/live units, the type of building that is currently leading the way to urban regeneration in every other urban neighborhood in other cities. That is impossible with the way these were redeveloped.
How did these bad development types happen here? Weak planning laws; insufficiently funded planning efforts; political expedience; cronyism; no culture of planning; and probably more reasons beyond that. They are all different sides to the same die. The question is can it be overcome in the future.